This year's Clean Comedy Challenge was the best yet! Leslie Norris Townsend keeps hitting a homerun. Improvements in the competition were obvious. Not only were the competitors the best ever, the venue and the format of the competition was improved.
​
The competition location was moved down south to the beautiful little town of Senoia, Georgia, home of "The Walking Dead" television show. The Cafe which served as the host venue for the competition was wonderfully staffed and jammed packed full of eager audience members every night! Just 25 minutes south of Atlanta, and located in the Hollywood-darling town of Senioa made for a perfect location for the Challenge.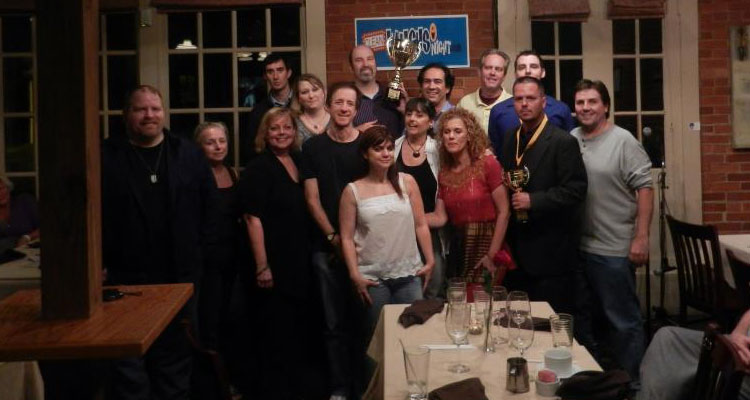 Formatting structure changed slightly this year as well. We crowned "Peoples' Choice Audience Winners" each night in order to spread the wealth a little bit. In the past, sometimes an individual night winner may not go on to win the entire competition so we wanted to acknowledge who the audience like the most each night, in addition to awarding the judges' favorite at the end of the week. This year's audience happen to agree with the judges though. The two nightly winners were Charlene Mae, a judges' finalist, and Marty Simpson, the eventual winner.
​
The open-mics back at the hotel proved to be very entertaining to the hotel guests and the finale shows by Joby Saad, Bobby Kelton, Leslie Norris, and Dennis Regan were a fantastic success. Joby and Bobby showcased their talents at the Senioa Cafe on the last night and Leslie and Dennis blew the roof off the Wyndam Hotel.
The conference portion of the Challenge was a stellar piece of the week as well. The competitors were able to hear from Bobby Kelton about his life experiences which included over 20 Tonight Show appearances. They got to hear from Joby Saad about the art of producing show stopping comedy bits, including silent movie-inspired mime act-outs. Dennis Regan, David Letterman's favorite comic, work-shopped with the contestants about the fundamentals of performance and writing, Suzanne Bartels, the nation's top cruise-line entertainment booker and owner of the Senioa Cafe, spoke with the group about what it takes to be a working cruise-ship comedian, and on the last day, Drew Edwards shared industry secrets which helped create the world famous Ron White!
​Leslie Norris Townsend has produced award winning shows for more than 20 years and the Clean Comedy Challenge is no different. The Peachtree Wyndham Hotel was perfect for the sessions and for the finale show. Overall, it was by far the best Clean Comedy Challenge yet.
If you are a comedian serious about developing your career, you would be foolish not to take advantage of the Clean Comedy Challenge!